Welcome to the
Island View Sanitary District Webpage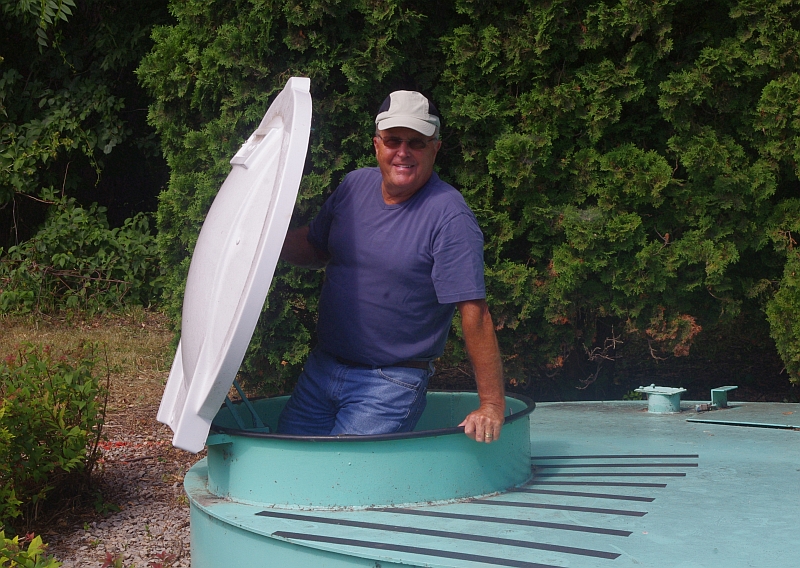 Former Head Lift Station Operator Sel Micka passed away of ALS April 22, 2019.  Sel joined the district in May of 1999 and became head lift station operator in December of 2011.  He devoted hours of his time (much unpaid) to see that lift stations were running properly, connections were inspected, sump pumps were discharging ground water to appropriate places, the portable generator got exercised once every month, trained and hired new employees, kept the lift station areas clean and landscaped, maintained the district truck, responded to alarms,  and oversaw the mechanical portion of our nearly 300-customer district.  He will be missed.  .  
IVSD Officers
Ron Harrell:  President (ronharrell46@gmail.com) 920-233-4739
Vicky Rowe:  Commissioner (vickylynnrowe@yahoo.com) 920-740-7624
Tom Konrad:  Commissioner (konradh2o@sbcglobal.net)  920-233-0504
Trish Marks:  Business Secretary (islandvsd@gmail.com)   422A W. 5th Avenue, Oshkosh, WI 54902   920-312-4040
Roger Brey:  Head Lift Station Operator (rkbreylake97@gmail.com)  920-279-7292
OCTOBER 2018 NEWSLETTER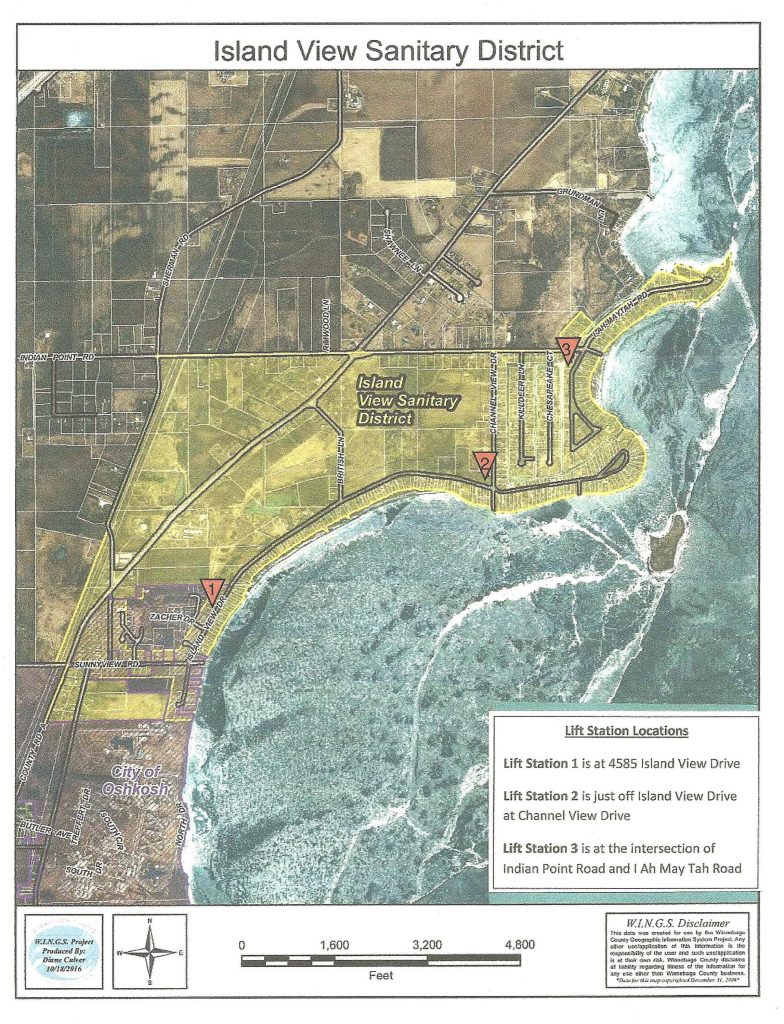 Here's how the Island View Sanitary District looks from satellite. The three lift stations are described in the legend at the bottom right of the pho
Wipes, cloths jam valve in Lift Station I leading to costly repairs
A jammed check valve, packed with wipes and old cloths, shut down one of the pumps for over a month until we could secure and purchase a replacement valve.  Had any kind of an emergency affected the lift station during this time, we would have been in trouble.  Thanks to Jacob Hofman of Energenecs, the new check valve was installed in early April, and things are back to normal. Credit also goes to our lift station operators who kept tabs on the station while it ran on one pump.  Once again, please don't flush send any kind of wipes or cloths into the sewer.
District hires two new lift station operators
At its August 8, 2018 regular meeting, the district hired Joe Olszewski and Kyn Anthony as lift station operators. The two spent much of the fall and winter learning the ins and outs of lift station maintenance.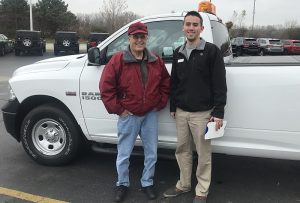 District purchases  truck
The IVSD has purchased a different truck for the district.  Because the 1995 Dodge Ram was nearing the end, we scoured the area for a replacement and came up with a 2014 Dodge Tradesman from Sheboygan Chrysler Dodge for $21,913.  It's a one-owner, Ram 1500, 5.7 V8, 4-wheel drive truck, 27,000 miles,  with new Goodyear tires, a ¼ fold hard bed cover, and several extras, including a backup camera.  We added a used Western plow and Ultramount, and purchased a new ball and pin for the hitch.  Total cost was $25,715.
The 1995 truck, with 50,858 miles on it, was purchased in 1997 for $15,025.  The district added a plow and chains a year later, making the total cost $17,720.
Once the district purchased the 2014 truck, we advertised the '95 truck on Craig's List and sold it in less than two weeks.  It had 90,860 miles on it when it was sold.
Money from two new hookups in 2017 ($18,000) and the sale of the old truck ($4,700) nearly paid for the newer vehicle.  We thought this was a wise investment for the future.
District finishes up system remediation
In October 2017, after televising part of the IVSD, the district finished up remediation of several homes along Island View Drive that were allowing ground water infiltration into the system.  With cooperation from the owners, the district corrected an improper sump pump hookup, a cracked collar on a lateral, a leaking toilet, a cracked Y in a yard, and a "squished pipe" connection between a home and a lateral.  Televising also revealed an improperly installed saddle connecting the main and a lateral, and that was repaired.  In the future, wherever and whenever our lift station operators detect unusual water flow, we will televise that area to pinpoint the problems and act on them immediately. Every time we correct a problem we're saving the district money.
The First Wish for the New Year
Please don't send grease or improper items into the system.  Our equipment is now over 20 years old, and we want to keep it running and in good shape.
Speedy Clean televises portions of district to find groundwater infiltration
Speedy Clean Drain and Sewer of Menasha televised 2,793 feet of pipe April 28, 2017 in parts of Island View Drive and I Ah May Tah Rd..  Using a self-propelled camera, the company probed the mains, laterals, and manholes looking for groundwater infiltration that was entering the system and being pumped through Lift Station 1, leading to unnecessary expense to district customers.  Homeowners whose laterals were carrying larger than normal amounts of water were notified by Speedy Clean/IVSD and have been asked to contact the company to remediate their laterals as soon as possible.
Often the cause of the leakage is a crack in the lateral running from the home to the sewer main.  Cleanout pipes that have been run over or broken off can also lead to infiltration, and sump pumps that are illegally hooked up to the lateral are also heavy contributors.
The district plans to continue televising in the future as they become aware of infiltration problems.
Here is a chart calculated by commissioner Tom Konrad explaining the costs to district customers associated with water infiltration.
 Flow Rates and IVSD Cost for Leaks into the Sanitary Sewer
0.25 gallons per minute = 15 gallons per hour, 360 gallons per day 131,400 gallons per year which costs $352.15.
0.5 gallons per minute = 30 gallons per hour, 720 gallons per day, 262,800 gallons per year which costs $704.30.
1 gallon per minute = 60 gallons per hour, 1440 gallons per day, 525,600 gallons per year which costs $1,408.61.
2 gallons per minute = 120 gallons per hour, 2880 gallons per day, 1,051,200 gallons per year which costs $2,814.54.
3 gallons per minute = 180 gallons per hour, 4320 gallons per day, 1,576,800 gallons per year which costs $4,225.84.
4 gallons per minute = 240 gallons per hour, 5760 gallons per day, 2,102,400 gallons per year which costs $5,634.43.
5 gallons per minute = 300 gallons per hour, 7200 gallons per day, 2,628,000 gallons per year which costs $7,043.04.
Island View Sanitary District Facts
 1.  The sewers were constructed beginning in 1996.

 2.  There were 264 original hookups.  

 3.  As of December  2017, there are 290 hookups.

 4.  Five hookups are allowed each year.  If there aren't five, the remaining number carry over to the next.  Fifteen accrued carryovers are allowed.  The District has never reached five hookups in one year since 1996, so it could hook up 15 new homes in one year without a lottery. 

 5.  The Island View Sanitary District involves over 6 miles of  8" PVC pipe. It is approximately 305 acres, 174 of which are residential. 144 acres occur within the Town of Oshkosh, 2.5 within the City of Oshkosh and 28 acres in the Town of Vinland(according to Oshkosh 2030 Sewer Service Area, East Central Planning Commission 2007).

 6.  The laterals are at minimum 4" PVC.

 7.  The pipes run along or under Island View Drive, Channel View Drive, parts of Indian Point Road, Killdeer Lane,  Chesapeake Court, I-Ah-May-Tah Road, and parts of  Sunnyview Road and Sherman Road. 

 8.  The system has three lift stations (see map):  Lift Station 1 is located on Island View Drive, Lift Station 2 is located on Channel View Drive, and Lift Station 3 is located on Indian Point Road.  The largest is Lift Station 1 that also pumps sewage from nearby City of Oshkosh residents.  Lift Station 2 services  Island View Drive and Channel View Drive, and Lift Station 3 handles the sewage from I-Ah-May-Tah, Indian Point Road, Killdeer Lane and Chesapeake Court.

 9.  Each lift station has two pumps.

10.  The district has one 60 KW diesel portable generator housed in the IVSD garage next to the Town Hall on County Trunk Y to be used in emergency situations and a permanent Generac on-site generator at Lift Station 1.

11.  The Island View Sanitary District has three commissioners:  Tom Konrad, Vicky Rowe and Ron Harrell.  The business secretary is Trish Marks. Financial adviser is Jim Zinth.

12.  Hookup charge for the sewer is $10,000 (April 4, 2002);  the cost is $9,000 for a lot that was stubbed in when the district was formed in 1996-1997.  Hookups must be inspected by an Island View Sanitary District Lift Station Operator.  A pressure testing permit costs $150 a reconnection/remediation permit costs $100 and must be obtained from IVSD business secretary Trish Marks.  A private contractor must handle the hookup, take out insurance and post a bond.

13.  Owners must contract out for their own laterals.

14.  In March of 2009, the District had Great Lakes TV Seal televise 5, 708 feet of pipe; in June of 2010, 6,646.6 feet, and in April of 2011 7,365.2 feet.  Speedy Clean televised 6,000 feet in the spring of 2013.  The City of Oshkosh televised the 40 homes that feed into Lift Station 1 in 2011.  Speedy Clean televised 790 feet in October 2016 and 2,793 feet more in April 2017.

15.  As of January 2015, users pay $120/per quarter for sewer service.  Most of the money goes to the City of Oshkosh for sewage treatment, in addition to paying for the new onsite generator and ongoing manhole rehabilitation.  The more we use the more we pay, hence our attempt at fixing the problems of leaking manholes, sump pump abuse, damaged laterals...Commissioners voted to raise the quarterly rates to $120 at the November 2014 meeting.

16.  The District purchased  $2,396,327.45 in sewerage system revenue bonds, series 1996, November 26,1996 (replaced on March 31, 1999) at 4.3 percent interest.    Each year the district paid back money on the loan and paid it off entirely in mid-2015.

17.  IVSD meetings are usually held the second 

Wednesday

of the month at

7 p.m.

at the town hall.  All meetings are posted at four sites:  the information box on Island View Drive near Lift Station 1, the town hall message board, this website and the Winnebago Post Office.  

18.  The lift station operators are Roger Brey (head lift station operator), Jim Merten, Troy Hamidi,  Jim Latta, Roger Brey, Kyn Anthony and Joe Olszewski.

19.  The District owns a 2014 Dodge truck.  It is parked in the garage next to the Town Hall.

20.  Commissioners are paid $40 per meeting.

21.  Lift station operators are paid $20 per day for being on call, $20 per hour for labor, and $30 per hour for performing mechanical repairs.  Starting wage for new lift station operators is $16 per hour.  Salaries were increased to these dollar amounts at the August 8, 2018 meeting.

22.  At least three times a year lift station operators remove the grease and other foreign matter from the lift stations.  The less "foreign matter" we put down the drain, the less it costs to clean out the lift stations. 

24.  Sump pumps are not to be discharged into the sewer system.  Abusers will be fined.

24.  Forty City of Oshkosh homes contribute their waste to the system, along with the trailer court residents.

Recent Island View Sanitary District Happenings

Here's a quick update on what's been happening with the IVSD in the past few years:

1.  We painted the lift stations and removed vegetation from in front of the generator hook-up area.

2.  We installed green-tipped poles near several manholes to alert the snowplow drivers and roadside mowers.

 3.  We hired Jim Merten, John Ross, Jim Latta, Troy Hamidi and Roger Brey as lift station operators.  Ross has since retired from the position, so the district hired Kyn Anthony and Joe Olszewski August 8, 2018.

 4.  Two lift station operators attended a Smith&Loveless pump school in Hortonville in 2018.

 5.  We switched insurance companies and are now with Rural Mutual.

 6.  We purchased a power wrench and backup battery to open manhole covers.

 7.  We approved the Clarence Smith project.

 8.  We purchased and installed new "No Trespassing No Dumping" signs at the three lift stations.

 9.  We revised several policies and job descriptions, revised parts of the Ordinance, made revisions to several  permit protocols and compiled an extensive book of district documents.

10.  Great Lakes TV and Seal has rehabilitated and repaired one manhole in 2009, one in 2010, four in 2011, six in 2013, five in 2015, and six in 2016.

11.  We reconfigured the floats in Lift Station 1 so that the lift station operators can clean them above ground.  Previously we had to hire someone to descend into the tank to remove the grease. The reconfiguration seems to be a much safer way of handling the float cleaning.

12.  IVSD purchased and installed a Generac generator in 2014 and placed it onsite at Lift Station 1.  The generator provides instant power to the lift station if there is an interruption and will free up our portable generator for use at Lift Stations 2 and 3. 

13.  We purchased a 2014 Dodge truck in 2017 and sold the 1995 Dodge truck which we had owned.

14.  We replaced some of the security lighting at each lift station in 2016-2017.
District rehabs six manholes in 2016; City splits cost on Manhole 11
Over the summer of 2016 the Island View Sanitary District rehabbed six manholes.  Great Lakes did the rehabbing, and at the moment the district seems to have addressed the most serious groundwater  leakage problems.  The City of Oshkosh and IVSD split the bill on the rehabbing of Manhole 11 which is located in front of Lift Station 1 at 4585 Island View Drive.  Lift Station 1 takes in wastewater from both the City of Oshkosh and IVSD, then sends it to the City for processing.
Interested in part time work with IVSD? 
The Island View Sanitary District has a great part time employment opportunity for someone who is customer-service oriented with the ability to work independently.
The position, lift station operator, requires  mechanical ability and a schedule that allows the applicant  to be on 24-hour call up to 10 days a month.  Lift station operators earn up to $20/hour.
Other qualifications:
*Must have a valid Wisconsin driver's license, a working cell phone, and the ability to climb up and down a short ladder to enter the lift stations
*Must be drug and alcohol free, and preferably a non-smoker
*Must have a dependable work history and a clean police record
For more information contact IVSD president  Ron Harrell at 233-4739 or e-mail him at ronharrell46@gmail.com
Make sure sump pumps are operating properly
Please make sure your sump pumps are operating properly and are discharging ground and surface water to the lake, ditches or yards.  This water must not be pumped into the sanitary laterals and mains as each home owner/resident/renter will end up paying for processing fees from the City of Oshkosh for water that doesn't need to be processed.  If you are unsure about whether your sump pump is hooked up properly, please contact head lift station operator Roger Brey (rkbreylake97@gmail.com)  920-279-7292.
What to Do During a Power Outage
During an outage, very limited use of flushing toilets and draining sinks will help prevent sewer backups.  As soon as the power returns you can return to normal use.  Please remember our new on-site generator will kick in at Lift Station 1, but we have to hook up the portable generator to the other two lift stations to keep the pumps in operation until power is restored.
Commissioners welcome resident input
IVSD welcomes resident input either by e-mail, phone or attendance at our meetings (7 p.m. on the second Wednesday of the month at the town hall).  If you have a concern or suggestion feel free to contact us.
Marks is new business secretary
IVSD has a new business secretary, Trish Marks, who replaces Sally Glander as of January 2016. Trish is currently the recording secretary of the Advisory Park Board, the Urban Wildlife Committee, and Friends of Oshkosh Community Media. She's the past recording secretary of the Oshkosh Plan Commission and the City of Oshkosh Board of Zoning Appeals. She's also the co-chair for the Mayor's Breakfast (including raising sponsorship monies for the event itself, budgeting and record keeping of the event for auditing purposes, working with various City Departments as to licenses and insurance needs, arranging entertainment and overseeing the entire event). Trish's IVSD phone number is 920-312-4040, the IVSD e-mail is islandvsd@gmail.com and the address is 422 A. West 5th Avenue, Oshkosh, WI 54902.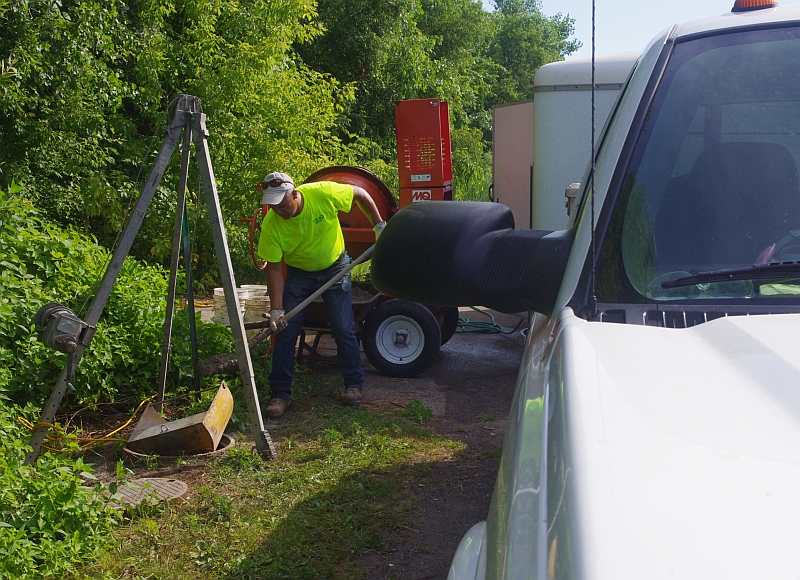 Great Lakes adds concrete to manhole #26 to help stop the massive groundwater leak.
Great Lakes rehabs several manholes along Island View Drive in 2015
Beginning in late July 2015, Great Lakes began rehabilitating several manholes along Island View Drive.  Most of the manholes had deteriorated to the point that groundwater was leaking into them, weakening the concrete, and putting us in danger of spending hundreds of dollars each month processing water that should never have entered our system.  Although expensive, Great Lakes is the leader in manhole rehabilitation in the state, serving communities of all sizes.  Manhole #26 had been repaired in an emergency situation earlier in July, but the repairs were temporary and stopgap at best.  We hope with a yearly manhole rehabilitation plan, we will be able to catch problems before they begin. (July 2015)
 Commissioners increased quarterly charges for 2015 to $120
The Island View Sanitary District commissioners at their November 5, 2014 meeting,  increased the quarterly sewer charge to $120.   This increase was necessary in part to cover the costs of manhole rehabilitation, the new on-site generator and the processing of sewage by the City of Oshkosh. The yearly charge is comparable to those of similarly sized sanitary districts across the state of Wisconsin.   According to the 2013 MSA Professional Services, Inc. Wisconsin Sewer Use Charge Survey, the average annual sewer cost based on 55,000 gallons per customer in districts serving a population of 1-500 users, is approximately $450.    Average costs in previous years for the same constituents were as follows:  1996--$250;  1998--$260;  $2001--$300;  2004--$370;  2007--$390;  2010--$430.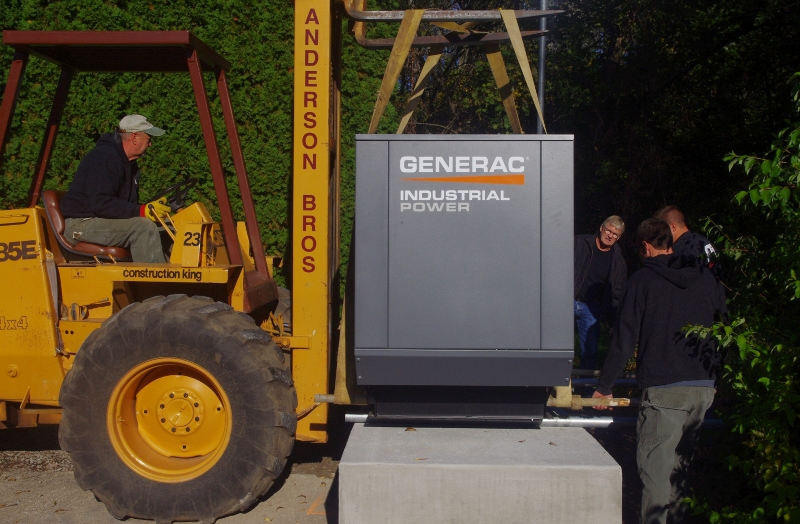 Mike Anderson lowers the Generac generator onto its concrete base in late September.  The generator provides immediate emergency power to the pumps at Lift Station 1.  Nearby residents within hearing range of the lift station can expect the generator to test run for 20 to 25 minutes at noon every Saturday.
On-site generator went online Dec. 22, 2014
The new on-site Generac generator went online Monday, December 22. IVSD commissioners voted 3-0 to purchase the generator at its July 9, 2014 meeting. The generator has been placed at Lift Station 1 and will provide immediate power to the pumps during power outages.  In the past, IVSD lift station operators had no more than 30 minutes to drive to the IVSD garage, hook up the trailer, drive back to Lift Station 1 and hook up the generator. Having the on-site generator will allow lift station operators to use the portable generator at Lift Stations 2 and 3 in case of an outage.
The district applied for and was granted a variance July 9, 2014 by the City's Board of Appeals to allow for the new generator.  After considerable discussion at the August 6, 2014 meeting,  commissioners decided to pay for the generator from existing funds, rather than from a loan from either the state or a local bank.  A rate increase of $20 per quarter beginning January 2015 will help replenish the spent funds, pay the City of Oshkosh for sewage disposal and maintain the manhole rehabilitation plan developed last year.
Public Service installed a gas line to the generator on October 13, 2014.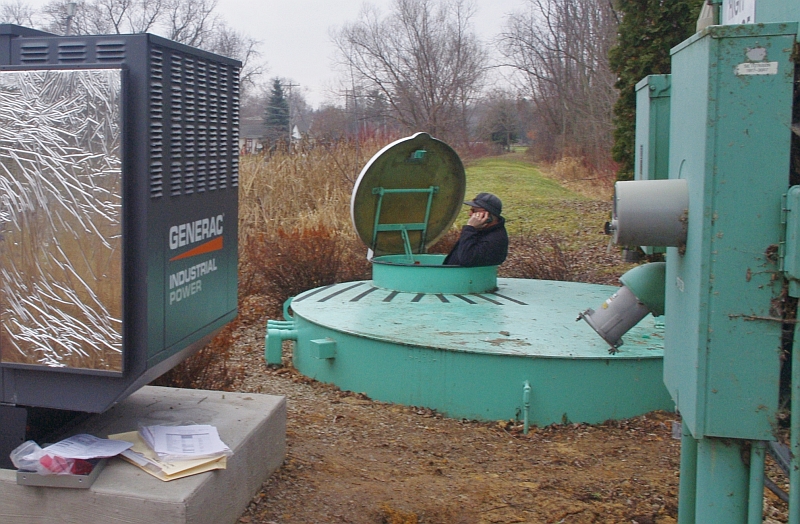 Head lift station operator Sel Micka begins testing the new on-site generator at Lift Station 1.  The generator went online December 22, 2016 and will kick in if the power supply is cut off.
Varnish or stain causes alarm at Lift Station #3
Lift Station #3 experienced a High Level Alarm August 4.  A cracked sight glass was the problem, but inside the sight glass was a large amount of what appears to be varnish or stain.  Anyone pouring these chemicals into the sewage system  should stop immediately before further  damage occurs to the pumps at the station. Any person with knowledge regarding this situation is encouraged to call one of the commissioners or Sel Micka, the head lift station operator. (August 4, 2014)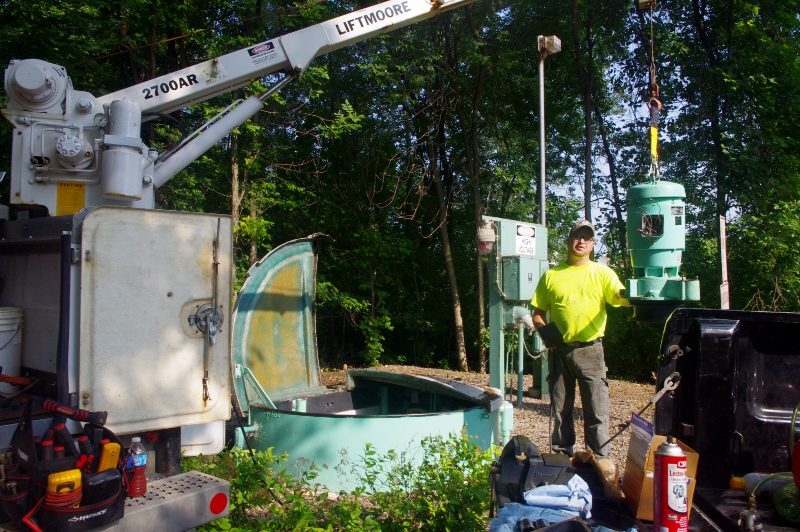 Energenecs service technician Chris Bales takes the repaired pump off the IVSD truck to reinstall it inside Lift Station 2.
District replaces bearings on pump at Lift #2 
One of the pumps in Lift Station #2 on Channel View Road had been making so much noise that Head Lift Station Operator Sel Micka decided it was time to replace the bearings and clean up the pump.  Energenecs service technician Chris Bales pulled the pump July 30, Micka had the bearings replaced and the wiring redone at  Oshkosh Electric the same day, and Bales reinstalled the pump July 31.  Because there are two pumps at each lift station, Micka switched pump operations to the working pump while this one was being repaired.  As Micka said, "It's better to get these things taken care of before they completely break down.  It's hard to get two entities to work in tandem within two days, and both these firms did their jobs well.  The pump is purring beautifully after the repair."
A mouse had chewed on the wires sometime in the past, so Micka also checked the wiring and found more chewing on the other pump.  Unfortunately for the mouse, he chewed a wire while the pump was operating and is now history.  Micka is now putting mothballs near the wiring in all three lift stations to keep the mice out. (July 31, 2014)
Diapers, clear water infiltration causes problems
Please do not throw diapers, Depends or sanitary pads down the toilet.  In the past few weeks these articles have been showing up in the main sewer line from 5186-5066 Island View Drive. If these objects make it to Lift Station 2, we could be in some trouble and would have to spend several hundred dollars to repair the pumps.
On another note there seems to be a considerable amount of clear groundwater running into the main sewer line from 5066-5004 Island View Drive.  Please check to see that your sump pumps are discharging to the channel or the lake and that your toilets and water softeners are working properly.  Every gallon of groundwater that is processed costs all of us money.  If this flow does not stop in the next few days, we will be televising the area to try to find the source. (May 27, 2014)
Below is information from the IVSD Ordinance. 
ARTICLE VII.  USE OF THE PUBLIC SEWERS
Section 1.  No person shall discharge or cause to be discharged any storm water, surface water, groundwater, roof runoff, subsurface drainage, uncontaminated cooling water, or unpolluted industrial process waters to any sanitary sewer.
Section 2.  Storm water and all other unpolluted drainage shall be discharged to such sewers as are specifically designed as storm sewers, or to a natural outlet approved by the District.  Industrial cooling water or unpolluted process waters may be discharged, on approval of the District, to a storm sewer or natural outlet. 
ARTICLE XI.  PENALTIES
Amendment #9
Section 1.  Any person found to be violating any provision of this Ordinance shall be served by the District with written notice stating the nature of the violation and providing the person in violation a thirty(30) day period for the satisfactory correction thereof The Commission may extend the period of time for satisfactory correction of the violation upon application for an extension of the thirty (30) day correction period by the offender and upon good cause shown or upon the Commission's discretion based upon considerations for weather or other good cause. The offender shall, within the period of time stated in such notice, or upon the time period as extended by the Commission, permanently cease all violations and make all corrections specified in such notice.  There shall be no "time limit" before violation of Article VIII shall be enforced.
Section 2.  Any person who shall continue any violation beyond the time limit provided for in Article XI, Section 1, may be charged with such violation under the laws of the State of Wisconsin, the Town of Oshkosh or the Island View Sanitary District, and if convicted thereof, shall forfeit an amount not exceeding $200.00 for each violation.  Each day in which any such violation shall continue shall be deemed a separate offense.  Any person violating any provision of this Ordinance may be prosecuted for said violation before the Municipal Court of the community where such violation occurred or in the Circuit Court of the County where such violation occurred.
In addition to the penalties set forth in Article XI, Sections 2-5 of this Ordinance, the court shall require that the offender pay court costs of the proceeding and may further require payment of all actual costs necessary to return the drainage status to acceptable working order.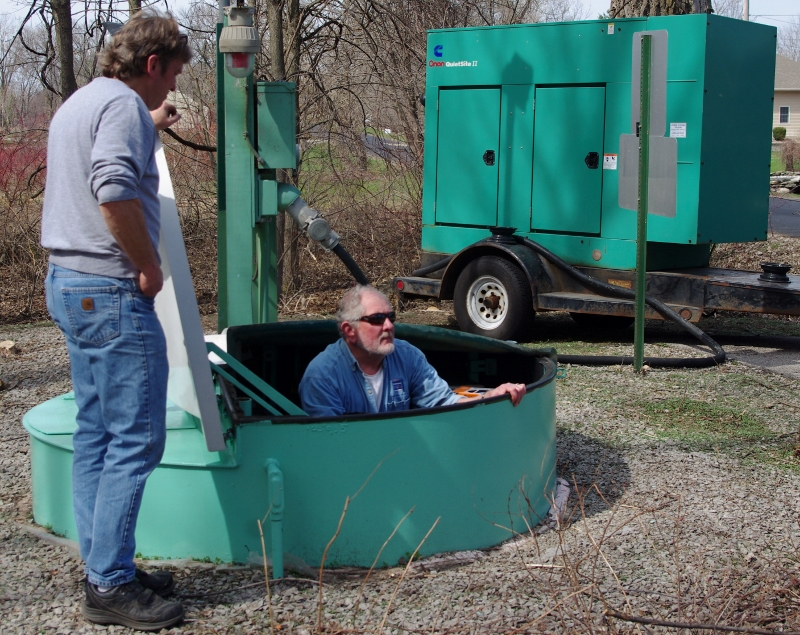 Jim Merten and Rick Siemann exercise the portable generator at Lift Station #2 for events that occur like the one described below.  The generator is tested once a month.
A day in the lives of the IVSD lift station operators
 or
why the district hires local residents to maintain
the district's lift stations
It was Christmas Eve Day 2013, 12 degrees below zero... COLD!!!!  At 5:30 a.m., the lift station operators received an emergency call from Lift Stations 2 and 3 (located on Channel View and I Ah May Tah) indicating the stations were running on battery backup and that the power was out.
Lift Station Operator John Ross was on call so he surveyed the situation and called Head Lift Station Operator Sel Micka to tell him that a power phase had been lost and that Stations 2 and 3 were down.  The two pumps in each lift station run on three phases so the phase that was out did not affect the power to the rest of the homes in the area.  (To further explain this, each home needs a primary wire"top wire" and a ground. All residences use single phase "one top" wire and a ground.  The top wire that was out did not feed the homes in the area. The lift station needs all three top wires and a ground because it is three phase---Micka)
Shortly after Ross called Micka, lift station operator Jim Merten called to ask what was happening.  Merten was plowing snow so he agreed to meet Ross and Micka at the IVSD shop next to the firehouse on County Trunk Y to pick up the district's portable generator and help pull it to the lift stations.  On the way to the shop, Ross notified Wisconsin Public Service of the power outage.
While Ross and Micka readied the generator, Merten took his own truck to #2 to plow the snow and make way for the generator's arrival.
One of the main problems a winter power outage presents in a lift station is loss of power to the heaters which keep the equipment inside the station running.  The equipment doesn't perform well below 50 degrees.  It's also difficult for the lift station operators to work in the early morning hours because of the low light and the bitter cold.
Upon arriving at #2, the men pumped down the station, with the help of the portable generator, sending the effluent to #1, located on Island View Drive.  Lift Station #1 was the only lift station not affected by the outage.  While Ross and Micka worked at #2, Merten went ahead and plowed out #3.
After pumping down #2, Micka and Ross joined Merten at #3.  Because of the extreme cold, the padlocks on the power control board would not open.  The crew used warm WD40 from inside the station to thaw out the locks.  At this time lift station operator Mark Sellers arrived, so Merten was able to go back to his plowing.  Because the heat needed to be maintained inside the two lift stations, Sellers went back home, got his personal generator, and came back to #3 where he connected it to the heater.  He would stay at #3 until the power was restored.
Micka and Ross went back to #2 and maintained the station's power with the district's portable generator.  Fortunately, power was restored before #3 reached a high level and would need to have been pumped, necessitating a trip back to #3 with the district's generator.  Power came back on around 8:15 a.m. so the men returned both lift stations to automatic operation and went back to the shop to park the truck and generator, then head home.  Hours later the men found out that a car had hit a power pole, causing the outage.  Many residents were unaware that the power had gone out, and few knew the drama that had played out in the early morning hours.
If you think you'd be interested in working as an IVSD lift station operator, call Sel Micka or talk to any of the men about what the job entails

. 

We can always use a few good men or women to help maintain the stations.
Turkey Grease and Food Cause Annual Clogs in Waste Water Pipes
Updated: Nov 26, 2013 4:46 PM CST
Broadcast on WBAY-TV Green Bay, WI on the 6 p.m. news
By Patrick Nelson
Green Bay -
Great Lakes TV and Seal rehabilitated six manholes in October 2013.  The manholes were deteriorating rapidly because of the formation of sulfuric acid which attacks the concrete and produces holes in the manholes which allow groundwater to enter the system.  The groundwater gets sent to the treatment plant to be processed along with the regular sewage from all homes in the IVSD.  This influx of ground water adds more costs to our treatment bills.  The district will be rehabbing several manholes each year until all problem manholes have been repaired.
The above photos, provided by Great Lakes TV and Seal, show the rehabilitation of Manhole 50A, located near Lift Station 2 on Channel View Drive.  Each manhole was pressure-washed to remove all loose cement, then after several other steps, was painted with epoxy to prevent future damage and maintain the integrity of the manhole.  The district rehabilitated six more manholes in 2016.